Annweiler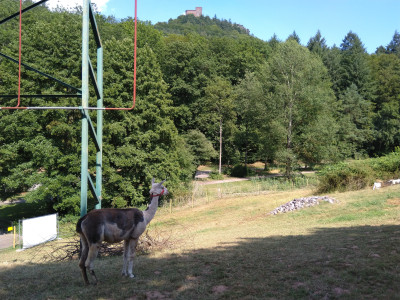 Since summer 2019 we can be found in Bindersbach valley, which is south of Annweiler. We have paths suitable for handicapped people or wheelchair users, a public bathroom and several mobile home parking spaces with water supply and disposal facilities.
There are great hiking opportunities such as Trifels castle or the Klettererhütte (a cabin in the woods which serves food and drinks for hikers). Afterwards, our guests can use the mini golf facility next door or the adventure playground in the beautiful Markwardpark of Annweiler. Our beautiful city center of Annweiler can be reached in a five minutes walk
Meeting point for hikes in Annweiler:
Driving towards Annweiler Bindersbach there is a parking space on your right hand side (after the mobile home parking spaces). You will see our pasture right in front of you. Walk up to the right until you see a small wooden bridge to your left. Cross the wooden bridge and walk up the hill. You will see our entrance to your left.

View Annweiler meeting point on Google Maps
Tours in Annweiler
Contact
Klotz Family
Im Gässel 1
76857 Völkersweiler