Llama hike in the Palatinate Forest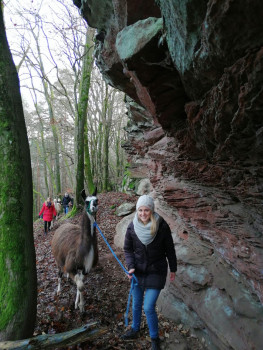 Attention:
new meeting point for tours in Völkersweiler from 07.09.2020:
Völkersweiler graveyard.
Current information due to the COVID-19 pandemic:
We have been back in 'normal' bussiness since May 18th.
Because of the ongoing COVID-19 pandemic and the state's regulations, you have to make a booking in advance.
Anyways: We are looking forward to your visit!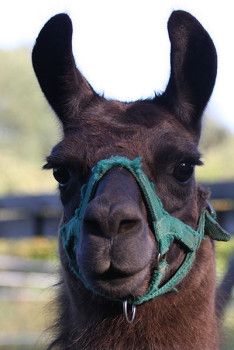 Nature, llamas and you
There is a huge area around Annweiler and Völkersweiler which invites you to hike with our llamas - past rocks, across streams and through blooming meadows.
Because of their calm and balanced character, llamas are perfect hiking companions that can be guided easily.
Hikes are possible in every season and suitable for all ages. Your dog is welcome to join the hike as well since our llamas are very relaxed and used to dogs.
Furthermore, we can plan barrier-free routes for wheelchair users.
You will enjoy an amazing time with our lovely llamas, whether as a children's birthday party, a family field trip or a company or school excursion.
We promise you will have an unforgettable experience.