Our Offer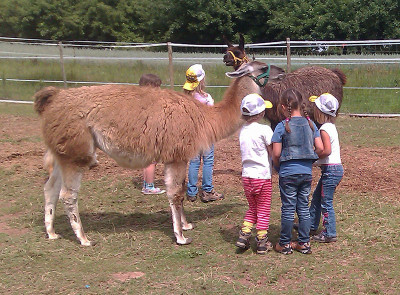 We are offering guided hiking tours through the Palatinate Forest. Hikes are only possible if booked in advance. We recommend to make an early reservation to ensure your day and time.

Our tours take place outdoors and in (almost) any weather condition, meaning your clothing should be suitable for all weather conditions. Therefore, in case of short-term cancellations due to unsuitable clothing or bad weather by customers, fees must be paid as described in our terms and conditions. However, this does not apply to force majeure such as thunderstorms, flooding, etc. In this case we will contact you to cancel the tour and find an alternative date for your hike. According to the German saying that there is no bad weather, but only inappropriate clothing, we want to state: rain, humidity or wet ground are no reasons for cancellation.
Llamas live and pure
During the tour we provide interesting and extensive knowledge about llamas. After the hike you can feed the animals with food provided by us. In the end, all participants will get their llama driving license. You are also welcome to take llama wool with you as a souvenir or to buy one of our lovely llama key chains.
Our tours/Booking
All tours take place in mixed groups. Private tours are still possible and have an extra charge on the normal tour price.

Check the calender below for available bookings, or visit https://pfalzlamas.regiondo.de/kategorien.
English translations are currently not available.
Individual planning
We can organize hikes according to your personal wishes and needs. You are welcome to write an email to info@pfalz-lamas.de and we are happy to help you out.
Palatinate specialties
You want to combine Palatinate specialties in pure nature at our llama station after your hike?
We serve:
Hot sausages in a roll, for 2 people
Goulash soup, for 2 people
Giant pretzel, for 5 people
Wine tasting, for 10 people
You can choose our food offers during the booking process for hikes in Annweiler.
Contact
Klotz Family
Im Gässel 1
76857 Völkersweiler