Nikolauswanderung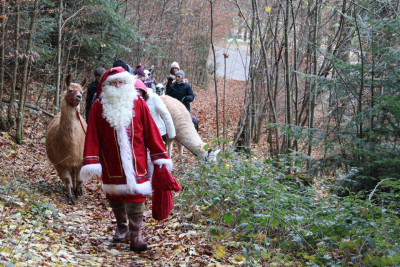 Location Annweiler:
Time spent completely about 2 hours.
Walking time approx. 1 hour, approx. 2 km.
Adult costs € 12 p.p.
Cost children (from 4-14) 12 € p.p.
Prices regardless of whether you are leading an animal or not!
Mixed groups.
Incl. Mulled wine / punch
On December 6th, Santa Claus comes to the Palatinate Lamas in Annweiler.
After a short hike, St. Nicholas, as well as the llamas with the children and the adults, reach the concert shell in the spa gardens. The gift giving will then take place there.
All families are welcome to come to the spa gardens with the children.
We offer parents the opportunity to hand over gift bags for their children to the concert shell. Also happy with some information about the children. Santa Claus then distributes these personally.
Contribution towards expenses only for the gift of 5 €
We are not responsible for the weather or the condition of the trails. If there is no explicit cancellation, the tours will also take place.
We reserve the right to change the route regarding fitness and local conditions